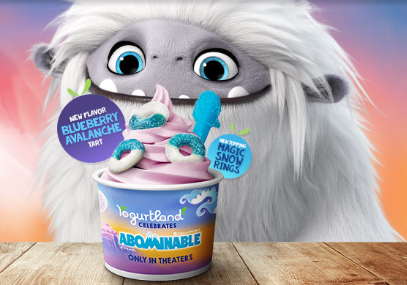 -Yogurtland Introduces New Film-inspired Blueberry Avalanche Tart Flavor, Abominable Movie Cups and Two Limited Edition 3D Collectable Spoons -
(IRVINE, CA) August 28, 2019 - Yogurtland, the ever-popular self-serve frozen yogurt brand, is teaming up with DreamWorks Abominable for a flavor adventure that will inspire fans of all ages.
The new film Abominable tells the story of young Yi who finds a new friend, Everest, on the roof of her apartment building. Yi and her friends embark on a magical epic adventure to return Everest to his family at the highest point on earth.
Yogurtland is celebrating DreamWorks Abominable beginning September 2nd with the new delicious Blueberry Avalanche Tart frozen yogurt. Made with real blueberries, this tart frozen yogurt has a balance of fresh and jammy blueberries with a hint of floral and refreshingly ice texture.
Since everyone loves a good topper, the new Blueberry Avalanche Tart pairs perfectly with yummy gummy Magic Snow Rings and will be available at all Yogurtland locations.
"We are excited to share in the Abominable journey that gives families an exciting experience of delicious flavor and an epic journey," said Jacob Dubin, brand manager at Yogurtland. "We know that everyone, big and small, are going to want to keep the adventurous spirit of Abominable alive and enjoy the magic in every cup at Yogurtland."
An epic adventure deserves its own mementos and Yogurtland's new limited-edition 3D collectable spoons will feature two of the films loveable characters, Everest and Yi. Yogurtland's new cups highlight the young Yi and Everest's adventure. Cups and spoons are available while supplies last.
Separating Yogurtland from competitors is the company's team of flavorologists who continually create craveable flavors and the proprietary recipes for the brand's more than 200 different and customized flavors. Each one is more tantalizing than the last, giving fans more reasons to love building their own frozen dessert experience. Whether traditional or exotic, each flavor uses real ingredients sourced from their original locations. By controlling the entire frozen yogurt making process with their own dairy, Yogurtland has raised the standards for flavors and quality to new heights and much to the delight of millions of fans.
Yogurtland features non-fat and low-fat yogurt flavors, ice cream, and non-dairy and no sugar added choices while using milk that contains no antibiotics or added hormones. Fruit flavors are fortified with Vitamin C for an extra boost.
Presently Yogurtland has more than 320 locations across the U.S., Australia, Dubai, Guam, Myanmar, Oman, Singapore and Thailand. For more information, visit http://www.yogurt-land.com or http://www.facebook.com/yogurtland.