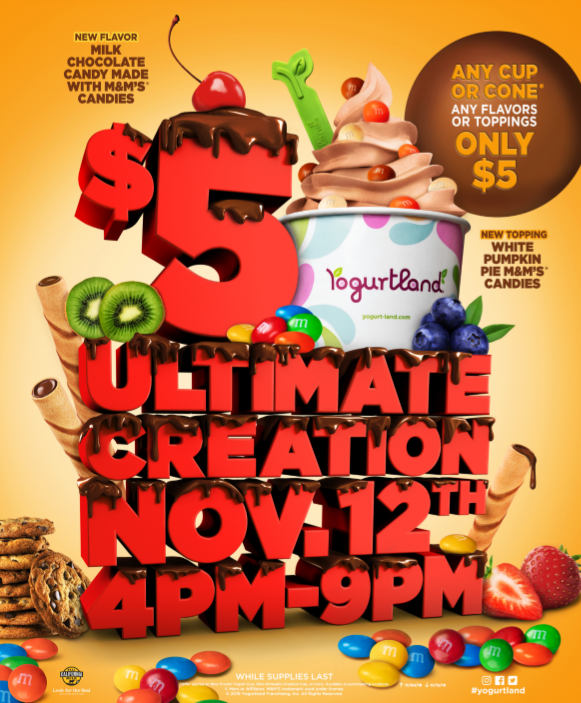 Yogurtland Offers $5 Ultimate Creations on November 12
-Featuring a Limited Time Flavor and Topping Made with M&M'S® Candies-
(IRVINE, CA) November 4, 2019— On Nov. 12, Yogurtland fans will have an even greater reason to celebrate with the return of Yogurtland's $5 Ultimate Creation Event. On November 12th from 4 -9 PM local time, dessert lovers can visit their local Yogurtland and swirl up their own Ultimate Creation in any cup, cone or drinkable. The possibilities are endless with any of the available frozen yogurt and ice cream flavors, including the following limited-time flavor and topping made with M&M'S Candies:
Milk Chocolate Candy Frozen Yogurt – Yogurtland packed a whole lot of real M&M'S® Candies into the smooth and creamy frozen yogurt. The rich milk chocolate flavor is like eating millions of colorful candy pieces in every bite.
M&M's White Pumpkin Pie Candies – enjoy the flavors of autumn with this fun and festive topping that's perfect for the season. It comes in three festive fall colors with a white chocolate center that's flavored with a pumpkin pie taste.
"We are thrilled to be partnering with M&M's for our $5 Ultimate Creations event," said Jacob Dubin, Marketing Leader at Yogurtland. "Our fans continue to surprise us with their creativity and we celebrate that by giving them the perfect opportunity to bring their ultimate froyo, ice cream and shake desires to life for just $5. Making it your way is what we're all about. "
Yogurtland is one of the nation's first and largest self-serve frozen yogurt brands offering refreshing options for fans to enjoy their own customized treat such as Drinkable Creations shakes, frappes and waffle cones. The company continues to transform the industry with its' latest move into third party delivery, giving customers more flexibility to enjoy dessert wherever they are.
Separating Yogurtland from competitors is the company's team of flavorologists who've developed more than 200 different craveable flavors. Whether traditional or exotic, each recipe uses real ingredients from across the globe.
With an exciting rotation of monthly flavors, Yogurtland stores feature non-fat and low-fat yogurt, ice cream, and non-dairy and no sugar added choices while using milk that contains no antibiotics or added hormones.
Presently Yogurtland has more than 300 locations across the U.S., Australia, Dubai, Guam, Myanmar, Oman, Singapore and Thailand. For more information, visit http://www.yogurt-land.com or http://www.facebook.com/yogurtland.