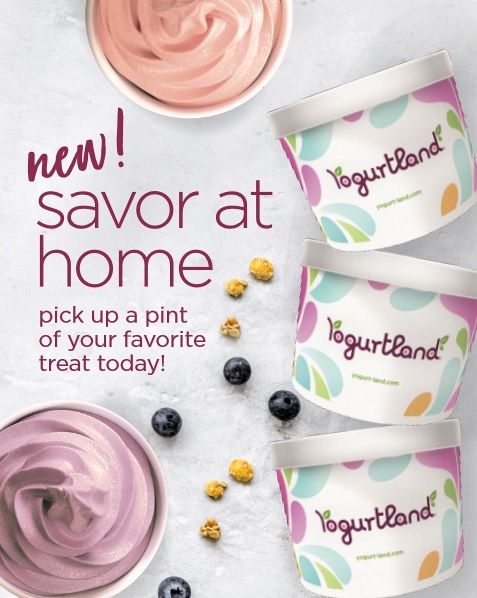 -When More is Better, Fans Can Now Purchase Pre-Packed Pints of their Favorite Yogurtland Flavors-
Yogurtland fans can now satisfy their late-night cravings or be the hit of a party with a full pint of their favorite froyo or ice cream flavor. Beginning today, Yogurtland fans can now purchase a pint of their favorite froyo or ice cream at the Seal Beach location.
"Sometimes you need more than a cup of Yogurtland's smooth and delicious froyo and ice cream, and now our fans can enjoy the convenience of a pint to go from our Seal Beach location," said Jacob Dubin, strategic brand manager at Yogurtland. "We are excited for this test and look forward to adding pints to go at many more locations in 2020."
The pints are prepared daily and ready to go directly to your freezer or share with friends or at the office. The pints will be available at the Seal Beach location, 12357 Seal Beach Blvd. Suite 2, in the Shops at Rossmoor.
Yogurtland is one of the nation's first and largest self-serve frozen yogurt brands offering refreshing options for fans to enjoy their own customized treat such as Drinkable Creations shakes and now pints. The company has transformed the industry by reshaping a popular trend into a growing business by redefining dessert and delivering the ultimate culinary experience.
At Yogurtland's self-serve frozen yogurt shops, guests are greeted by a bright, contemporary décor and wall of sweet and tart yogurt flavors and a premium-topping bar filled with healthful and indulgent options. Paying by the ounce, guests can choose among yogurt flavors including shakes, ice cream, non-fat and low-fat options, gluten-free and no sugar added alternatives, to create their own delicious frozen treat and top it off their way.
Separating Yogurtland from competitors is the company's team of flavorologists who continually create craveable flavors and the proprietary recipes for the brand's more than 250 different, handcrafted flavors. Each one is more tantalizing than the last, giving fans more reasons to love building their own frozen dessert experience. Whether traditional or exotic, each flavor uses real ingredients sourced from their original locations. By controlling the entire frozen yogurt making process with their own dairy, Yogurtland has raised the standards for flavors and quality to new heights and much to the delight of millions of fans.
Yogurtland features fruit flavors are fortified with Vitamin C for an extra boost. They began offering ice cream last year, giving fans more choices than any other brand.
Yogurtland offers more than a dozen different kinds of seasonal real fruit and more than 45 choices of other premium toppings to customize your refreshing creation. Keeping it real also means keeping it fresh. Each day, Yogurtland locations hand cuts about 500 pineapples and more than 6,000 pounds of strawberries. Other seasonal fruit options include bananas, blackberries, honeydew melon, kiwi, lychee, peaches and watermelon. Other popular toppings include your favorite childhood breakfast cereals of Capt n Crunch and Fruity Pebbles to grown-up tastes such as granola, carob chips, yogurt chips, and coconut flakes and chocolaty favorites such as Hershey's Heath Bar and more.
Presently Yogurtland has more than 320 locations across the U.S., Australia, Dubai, Guam, Myanmar, Oman, Singapore and Thailand. For more information, visit http://www.yogurt-land.com or http://www.facebook.com/yogurtland.
###