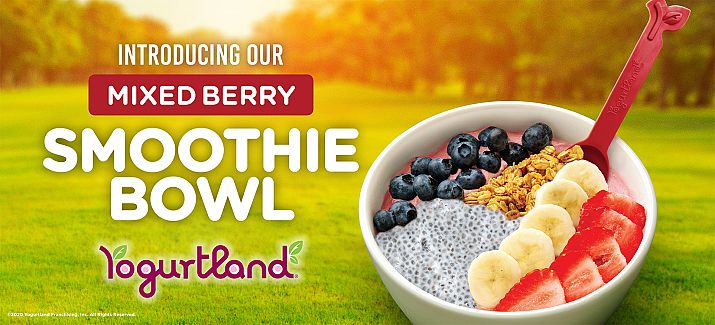 IRVINE, Calif., March 2, 2020 /PRNewswire/ -- Yogurtland, the leader in self-serve premium frozen yogurt, announces today the latest addition to their berry delicious lineup as the brand further expands beyond frozen yogurt and welcomes a dairy-free, vegan smoothie bowl to their spring menu. The self-serve Mixed Berry Smoothie Bowl is a better-for-you option that is available starting today at Yogurtland locations nationwide to provide consumers with a whole new way to create.
Made with a sweet and refreshing blend of real blueberries, blackberries, raspberries and bananas, the new Mixed Berry Smoothie Bowl creates a great addition to anyone's wellness routine with smoothie goodness in every spoonful. As the perfect smoothie bowl pairing, Yogurtland is also adding a new Plant-Based Chia Pudding to their beloved topping bar, along with their signature line-up of granola, fresh fruit, nuts and more. Yogurtland's new Chia Pudding is made with Chia seeds - that are known to be packed with omega-3s, protein and fiber - and oat milk - a permissible indulgence for vegans, flexitarians, and anyone looking for a wholesome plant-based addition to their bowl. Following Yogurtland's profile of using real, handcrafted, and artisan ingredients, the Mixed Berry Smoothie Bowl provides a light, refreshing flavor and is dairy-free with no added sugar*.
"At Yogurtland, we are always looking for innovative ways to offer healthier options that are flavorful and are customizable based on our guests' lifestyles. Our smoothie bowls provide a creative self-serve option for fans to craft bowls as unique as they are," says Yogurtland Senior Marketing Manager, Brittany Knollmiller. "We are excited about the launch of the Mixed Berry Smoothie Bowl and look forward to expanding our smoothie bowl platform in the future."
In addition, Yogurtland continues to pioneer unique creations for the entire family with their seasonal limited-time offerings of Brambleberry Pie Frozen Yogurt and Orange Blossom White Peach Light Ice Cream**. The new varieties will be added to the brand's farm fresh-inspired spring menu starting in March and April respectively.
For more information or to find a location near you, please visit yogurt-land.com.
About Yogurtland
Yogurtland is the leader in self-service premium frozen yogurt, delivering over 200 handcrafted artisan flavors providing fans an anytime beloved sweet treat for the whole family. Yogurtland exclusively uses real ingredients and scratch-made, handcrafted flavors from across the globe for fans to enjoy a truly customized dessert in the form of frozen yogurt and other frozen treats. Separating Yogurtland from competitors is the company's team of flavorologists who've developed an extension of options to the exciting rotation of monthly flavors offering non-fat and low-fat frozen yogurt, ice cream, non-dairy, and no sugar added choices. The milk that they use contains no antibiotics or added hormones. The company continues to transform the industry with its latest move into third party delivery, giving customers more flexibility to enjoy dessert wherever they are. Presently Yogurtland has more than 300 locations across the U.S., Australia, Dubai, Guam, Myanmar, Oman, Singapore, and Thailand. Flavors are always subject to creative change and popular demand. For more information, visit www.yogurt-land.com.
*Not a low-calorie food
** Fat Content has been reduced from 10g per 100g to 4.8g per 100g as compared to our Creamy Vanilla Ice Cream.