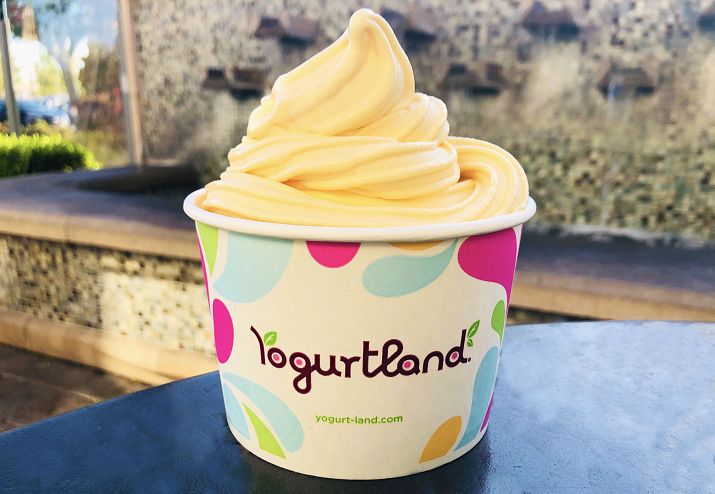 IRVINE, Calif., June 1, 2020 -- Yogurtland, the leading premium frozen yogurt chain, wants their fans to feel just peachy as they announce today the launch of their newest flavor, Orange Blossom White Peach Light Ice Cream*. Featured as a summer staple, Yogurtland's newest promotional flavor is expected to be available all season long while supplies last.
Taking the sweetness of juicy white peaches, along with bright, citrusy accents of orange blossom mixed into Yogurtland's thick and creamy light ice cream makes for the perfect treat to beat the summertime heat. The brand's beloved frozen yogurt and ice cream recipes are created by using scratch-made, handcrafted flavors and creamy, fresh pure California milk. Yogurtland's newest Orange Blossom White Peach Light Ice Cream gives light and floral flavor profile for a delightful indulgence anyone can enjoy with their choice of toppings from Yogurtland's signature options.
"Here at Yogurtland, we love to create flavor profiles that are as unique as our customers. Our team of flavorologists have worked diligently to create truly elevated and experiential flavors for our fans to try," says Yogurtland Senior Marketing Manager, Brittany Knollmiller. "Crafted as the perfect summer treat, we're excited to welcome a light ice cream* option like Orange Blossom White Peach to our flavor rotation for the season."
For more information or to find a location near you for takeout, delivery or catering, please visit yogurt-land.com.
*Fat Content has been reduced from 10 g per 100 g to 4.8g per 100 g as compared to our Creamy Vanilla Ice Cream.
About Yogurtland
Yogurtland is the leading frozen yogurt chain, delivering over 200 handcrafted artisan flavors providing fans an anytime beloved sweet treat for the whole family. Yogurtland has a team of flavorologists that exclusively use real ingredients and scratch-made, handcrafted flavors from across the globe for fans to enjoy a truly customized frozen dessert. The company's premium frozen yogurt and delicious toppings are also available through catering or third party delivery, giving customers more flexibility to enjoy dessert for any occasion wherever they are. Presently Yogurtland has more than 300 locations across the U.S., Australia, Dubai, Guam, Myanmar, Oman, Indonesia, and Thailand. For more information, visit www.yogurt-land.com.