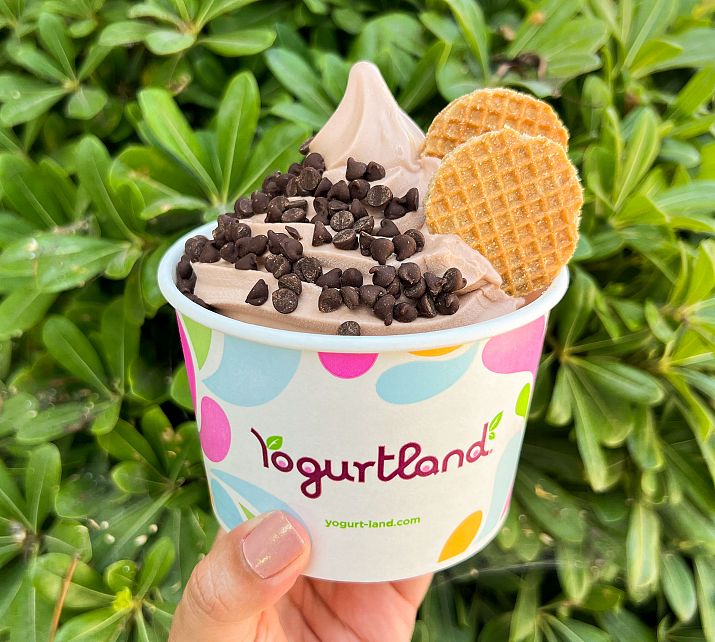 Yogurtland welcomes autumn with Brown Butter Chocolate Chip Cookie frozen yogurt and online exclusive, Brookie Cup
FARMERS BRANCH, Texas, Oct. 2, 2023 -- Yogurtland, the leading self-serve frozen yogurt brand, is embracing the fall season with a new flavor, Brown Butter Chocolate Chip Cookie and an online exclusive Brookie Cup. The limited time releases are now available at participating Yogurtland locations nationwide while supplies last.
Warm brown butter notes are combined with the sweetness of chocolate chips to create Yogurtland's all-new Brown Butter Chocolate Chip Cookie frozen yogurt, resulting in a rich and indulgent chocolate chip cookie flavor that's beyond basic. For those seeking a delightful pairing with this cozy treat, guests can also enjoy the returning fan-favorite, mini caramel Stroopwafel topping available now.
"Guests are invited to celebrate fall with the release of our brand-new Brown Butter Chocolate Chip Cookie flavor," said Brittany Knollmiller, head of marketing at Yogurtland. "Our flavorologists have elevated the classic chocolate chip cookie to new heights. With the addition of delectable notes of warm brown butter, the result is simply magical."
Yogurtland is also offering an exclusive online treat, the Brookie Cup. This autumn-inspired treat is made with the new seasonal Brown Butter Chocolate Chip Cookie frozen yogurt and topped with brownie bites and mini chocolate chips. It is available to order exclusively online at yogurtland.com or through the Yogurtland app through Dec. 3, while supplies last.
Guests can also benefit from special promotions such as receiving a free Giant Blue Spoon with a minimum in-store purchase of $10 in celebration of National Spoon Day on Oct. 7. Additionally, Yogurtland is hosting a Fan Appreciation Day on Oct. 30 where guests will be treated to a special buy one cup, get one free offer (of equal or lesser value) and 2x points for Real Rewards members (this offer is limited to one per person and does not apply to third-party delivery orders, gift cards, or merchandise purchases; points will be applied within 24 hours).
For more information or to find a location near you for takeout, delivery, or catering, please visit yogurtland.com.
ABOUT YOGURTLAND
Yogurtland is the industry-leading frozen yogurt chain that delivers over 200 handcrafted flavors and provides fans an anytime treat for the whole family. Made with real ingredients, Yogurtland creates froyo moments with expansive menu items and offerings, at-home experiences, and innovations throughout the brand. Yogurtland creates their one-of-a-kind roster of flavors through its Flavorologists, who are experts in flavor and masters of their craft. With scratch-made, handcrafted flavors from across the globe, fans can experience a truly customized frozen dessert. Yogurtland's premium frozen yogurt and delicious toppings are available through delivery, pickup, or catering, making it fun and easy to enjoy dessert anytime and anywhere. Presently, Yogurtland has more than 220 locations across the U.S. and internationally. For more information, visit yogurtland.com.