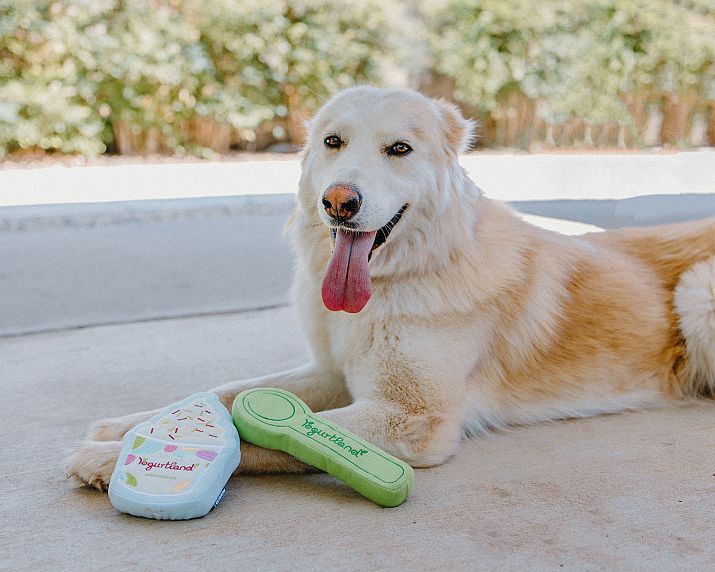 Spread love, joy and hope with Yogurtland's pet toy launch and supporting local shelters
FARMERS BRANCH, TX (August 14, 2023) — Get ready to celebrate furry friends in a unique way as Yogurtland, the leading self-serve frozen yogurt brand, unveils an exclusive pet toy collection just in time for National Dog Day on August 26. The collection features a signature lightweight, machine-washable frozen yogurt cup and spoon plush toy and is available nationwide through Yogurtland's own merchandise site while supplies last.
The Yogurtland pet merchandise collection is ideal for dogs of all sizes and provides excellent versatility for both indoor and outdoor play, seamlessly transitioning between water and land activities. Each toy in the collection can withstand up to 55 pounds of pull pressure and has a squeak inside that adds an extra element of excitement, keeping pets engaged and entertained for hours.
All proceeds from Yogurtland's pet toy sales will be donated to the SPCA of Texas and OC Animal Care to celebrate the occasion. Priced at $15.00 each or $25.00 for a pair, this initiative not only allows guests to pamper their pets with a fun new toy, but also contributes to the crucial care of animals who are patiently waiting for their forever homes.
"Our new froyo-inspired pet toys celebrate the love that our fans and their pups have for Yogurtland treats," said Brittany Knollmiller, head of marketing at Yogurtland. "We hope the launch will bring joy and make a meaningful impact on the lives of animals in need this National Dog Day."
To sweeten the deal further, Yogurtland is offering a 15% discount on their pet toys when purchased online on August 26 to mark National Dog Day. Guests can take advantage of this special offer by applying the promotional code "DOGDAY" at checkout.
To learn more about Yogurtland or find a store near you, please visit yogurt-land.com.
ABOUT YOGURTLAND
Yogurtland is the industry-leading frozen yogurt chain that delivers over 200 handcrafted flavors and provides fans an anytime treat for the whole family. Made with real ingredients, Yogurtland creates froyo moments with expansive menu items and offerings, at-home experiences, and innovations throughout the brand. Yogurtland creates their one-of-a-kind roster of flavors through its Flavorologists, who are experts in flavor and masters of their craft. With scratch-made, handcrafted flavors from across the globe, fans can experience a truly customized frozen dessert. Yogurtland's premium frozen yogurt and delicious toppings are available through delivery, pickup, or catering, making it fun and easy to enjoy dessert anytime and anywhere. Presently, Yogurtland has more than 220 locations across the U.S. and internationally. For more information, visit www.yogurt-land.com.