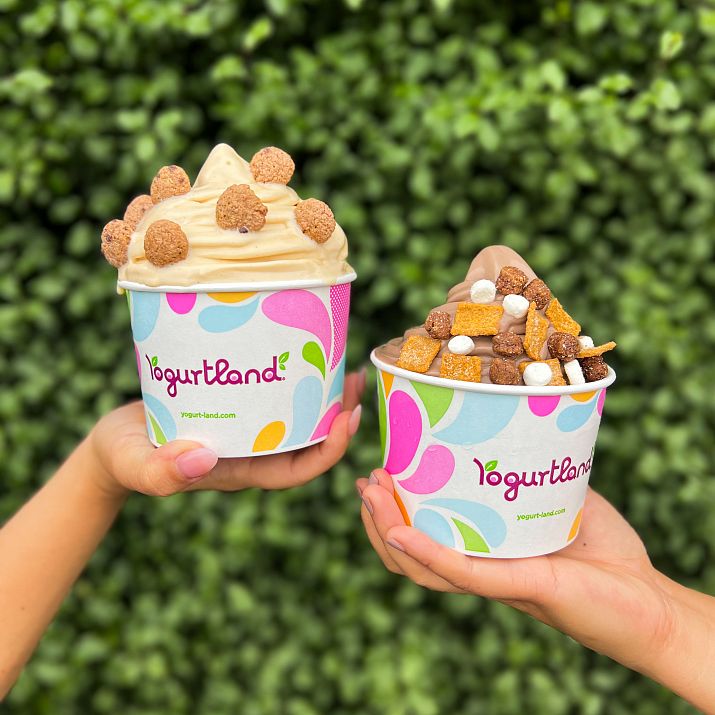 Get schooled with Yogurtland's new limited-time Cinnamon Churro Cereal and Peanut Butter Cocoa Cereal flavors
FARMERS BRANCH, TX - AUGUST 01, 2023
Yogurtland, the leading self-serve frozen yogurt brand, is kicking off back-to-school season with the launch of its breakfast-inspired Cinnamon Churro Cereal and Peanut Butter Cocoa Cereal frozen yogurt flavors, as well as two new cereal toppings, Chocolate Chip Cookie Bites and S'mores. These limited-time flavors and toppings will be available nationwide starting August 7 at participating Yogurtland locations while supplies last.
Guests will be schooled in deliciousness with the all-new Cinnamon Churro Cereal frozen yogurt, made with real cinnamon and Peanut Butter Cocoa Cereal frozen yogurt, featuring real peanut butter and cocoa. To make the experience even sweeter, guests can ace their froyo creations with Chocolate Chip Cookie Bites Cereal and S'mores Cereal toppings.
"This back-to-school season, our flavorologists were inspired by two classic breakfast favorites and created their unique spin on these new cereal flavors," said Brittany Knollmiller, head of marketing at Yogurtland. "With each spoonful, we hope our guests will be transported back to cherished childhood moments while making new memories with their own children, friends and families."
Real Rewards members can also stay at the top of the class by earning double points on in-store or online purchases every Tuesday in August and redeem a $5 reward for every 100 points earned. (This offer does not apply to third-party delivery orders, merchandise and gift card purchases; please allow up to 24 hours for points to be applied.) Additionally, Yogurtland invites guests to treat their loved ones with eGift cards and catering as the perfect sweet surprise or after school snack for the new school year.
For more information or to find a location near you for takeout, delivery, or catering, please visit yogurt-land.com.
ABOUT YOGURTLAND
Yogurtland is the industry-leading frozen yogurt chain that delivers over 200 handcrafted flavors and provides fans an anytime treat for the whole family. Made with real ingredients, Yogurtland creates froyo moments with expansive menu items and offerings, at-home experiences, and innovations throughout the brand. Yogurtland creates their one-of-a-kind roster of flavors through its Flavorologists, who are experts in flavor and masters of their craft. With scratch-made, handcrafted flavors from across the globe, fans can experience a truly customized frozen dessert. Yogurtland's premium frozen yogurt and delicious toppings are available through delivery, pickup, or catering, making it fun and easy to enjoy dessert anytime and anywhere. Presently, Yogurtland has more than 220 locations across the U.S. and internationally. For more information, visit http://www.yogurt-land.com.