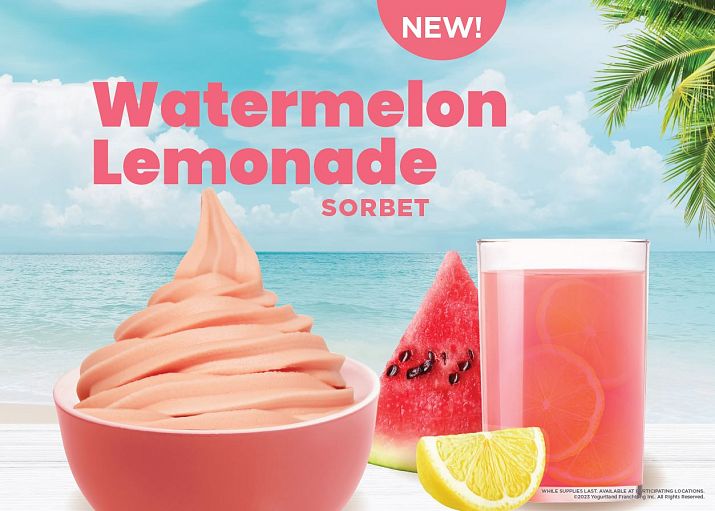 Experience a burst of summer flavors with Yogurtland's New Watermelon Lemonade Sorbet and New Online Exclusive, Beach Buddies Cup
FARMERS BRANCH, TX - JULY 06, 2023
Yogurtland, the leading self-serve frozen yogurt brand, is celebrating the start of summer and National Watermelon Month with its delicious Watermelon Lemonade Sorbet and online exclusive Beach Buddies Cup. The limited time releases are now available at participating Yogurtland locations nationwide while supplies last.
The perfect mix of juicy watermelon and tart lemon, Yogurtland's new Watermelon Lemonade Sorbet provides a taste of summer with every swirl. Made with real watermelon and lemon, the vegan and non-fat treat allows guests to kick back, cool off and feel great about enjoying this refreshing summertime flavor.
"Serving as a celebration of summer flavors, our refreshing Watermelon Lemonade Sorbet combines the flavors of summer in every bite," said Brittany Knollmiller, head of marketing at Yogurtland. "Our flavorologists created the perfect sorbet to cool down and enjoy with friends and family."
Yogurtland is also offering their online exclusive Beach Buddies Cup, which is guaranteed to deliver summer vibes. Crafted with Yogurtland's fan-favorite Rocket Pop Sorbet, mochi, mango popping boba and ocean-themed gummies, this ultimate indulgence is a beach day in a cup. It is available to order exclusively online at yogurt-land.com or through the Yogurtland app.
Additionally, in honor of National Ice Cream Day on July 16, Real Rewards members can make the holiday twice as sweet and earn double points on in-store or online purchases (This offer does not apply to third-party delivery orders and gift card purchases; please allow up to 24 hours for points to be applied).
For more information or to find a location near you for takeout, delivery, or catering, please visit yogurt-land.com.
ABOUT YOGURTLAND
Yogurtland is the industry-leading frozen yogurt chain that delivers over 200 handcrafted flavors and provides fans an anytime treat for the whole family. Made with real ingredients, Yogurtland creates froyo moments with expansive menu items and offerings, at-home experiences, and innovations throughout the brand. Yogurtland creates their one-of-a-kind roster of flavors through its Flavorologists, who are experts in flavor and masters of their craft. With scratch-made, handcrafted flavors from across the globe, fans can experience a truly customized frozen dessert. Yogurtland's premium frozen yogurt and delicious toppings are available through delivery, pickup, or catering, making it fun and easy to enjoy dessert anytime and anywhere. Presently, Yogurtland has more than 220 locations across the U.S. and internationally. For more information, visit http://www.yogurt-land.com.