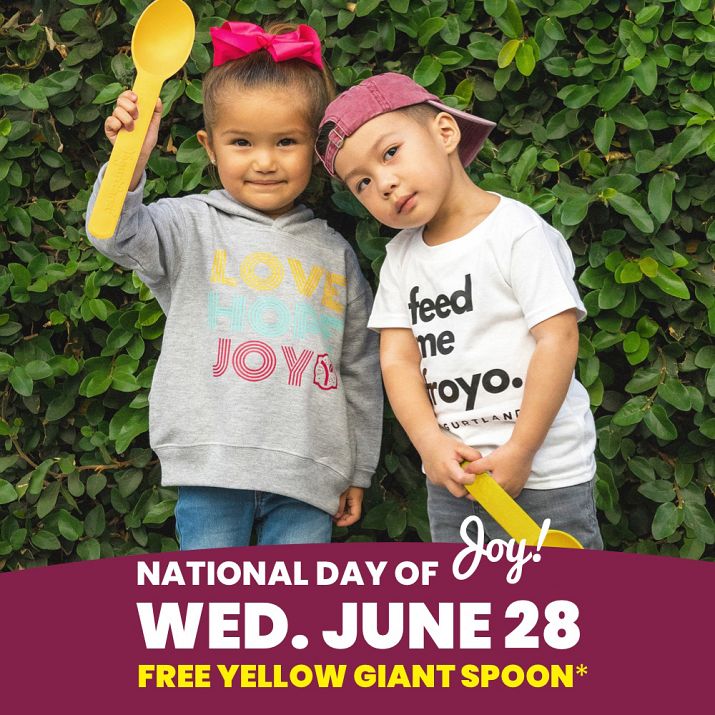 Guests will receive a limited-edition giant yellow spoon with an in-store purchase of $10 or more
FARMERS BRANCH, TEXAS - JUNE 13, 2023
Yogurtland, the leading self-serve frozen yogurt brand, is spreading happiness this National Day of Joy on June 28. Each guest who spends $10 or more in-store at any participating Yogurtland location will receive a limited-edition giant yellow spoon in celebration of the holiday while supplies last.
"Since I founded Yogurtland in 2006, we have been on a mission to bring love, joy and hope to the world," said Phillip Chang, founder and CEO of Yogurtland. "For us, it's not just about the frozen yogurt, we believe in sharing joy in the communities we serve."
Guests can also enjoy Yogurtland's newest limited-edition flavor, vegan Pineapple Mango Sorbet, in addition to receiving a collectible 12-inch, reusable yellow spoon. Available while supplies last in June, guests can experience a delightful combination of sweet, juicy pineapples and ripe mangoes, with each spoonful transporting guests to a tropical paradise.
"Our guests love our giant spoons and we are excited to introduce a new color that they can add to their collection," said Brittany Knollmiller, head of marketing at Yogurtland. "Sharing joy is what Yogurtland stands for and we look forward to making this holiday a tradition for our fans."
To learn more about Yogurtland or find a store near you, please visit yogurt-land.com.
ABOUT YOGURTLAND
Yogurtland is the industry-leading frozen yogurt chain that delivers over 200 handcrafted flavors and provides fans an anytime treat for the whole family. Made with real ingredients, Yogurtland creates froyo moments with expansive menu items and offerings, at-home experiences, and innovations throughout the brand. Yogurtland creates their one-of-a-kind roster of flavors through its Flavorologists, who are experts in flavor and masters of their craft. With scratch-made, handcrafted flavors from across the globe, fans can experience a truly customized frozen dessert. Yogurtland's premium frozen yogurt and delicious toppings are available through delivery, pickup, or catering, making it fun and easy to enjoy dessert anytime and anywhere. Presently, Yogurtland has more than 220 locations across the U.S. and internationally. For more information, visit http://www.yogurt-land.com.