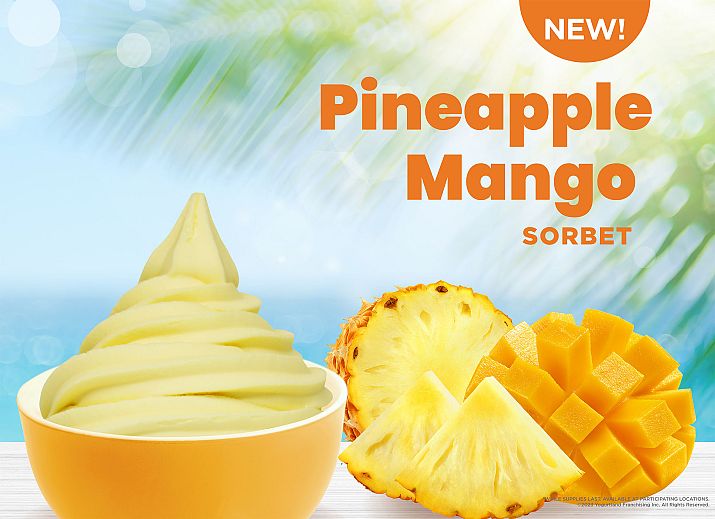 Escape to a tropical oasis with Yogurtland's Pineapple Mango Sorbet and New Online Exclusive, Beach Paradise Cup
FARMERS BRANCH, TEXAS - JUNE 05, 2023
Yogurtland, the leading self-serve frozen yogurt brand, is swirling into the summer season with a tropical new flavor, Pineapple Mango Sorbet, and an online exclusive Beach Paradise Cup. The limited time releases are now available at participating Yogurtland locations nationwide while supplies last.
Inspired by the vibrant flavors of the tropics, Yogurtland's vegan Pineapple Mango Sorbet offers a delightful combination of sweet, juicy pineapples and ripe mangoes. This all-new refreshing, dairy-free treat is made with real pineapple and mango, and each spoonful transports guests to a tropical paradise. Guests can also enjoy new limited time 3D fruit gummies available now.
"Summer break is here, and Yogurtland's new vegan Pineapple Mango Sorbet is the perfect refreshing treat to cool down with," said Brittany Knollmiller, head of marketing at Yogurtland. "It's a flavor the whole family can enjoy this National Mango Month!"
Yogurtland is also offering the Beach Paradise Cup, an online exclusive treat. This bright and flavorful cup is made with the refreshing Pineapple Mango Sorbet and topped with limited time 3D fruit gummies, hand-sliced mangoes and fresh strawberries. It is available to order exclusively online at yogurt-land.com or through the Yogurtland app.
For more information or to find a location near you for takeout, delivery, or catering, please visit yogurt-land.com.
ABOUT YOGURTLAND
Yogurtland is the industry-leading frozen yogurt chain that delivers over 200 handcrafted flavors and provides fans an anytime treat for the whole family. Made with real ingredients, Yogurtland creates froyo moments with expansive menu items and offerings, at-home experiences, and innovations throughout the brand. Yogurtland creates their one-of-a-kind roster of flavors through its Flavorologists, who are experts in flavor and masters of their craft. With scratch-made, handcrafted flavors from across the globe, fans can experience a truly customized frozen dessert. Yogurtland's premium frozen yogurt and delicious toppings are available through delivery, pickup, or catering, making it fun and easy to enjoy dessert anytime and anywhere. Presently, Yogurtland has more than 220 locations across the U.S. and internationally. For more information, visit http://www.yogurt-land.com.