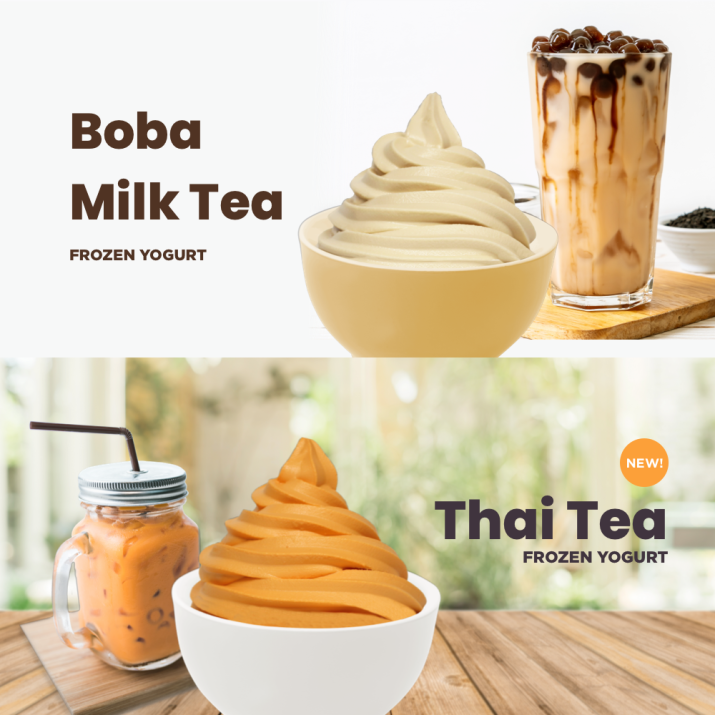 Yogurtland turns tea time into treat time with their take on Thai Tea and Boba Milk Tea flavors
FARMERS BRANCH, TX (March 27, 2023) — Yogurtland, the leading self-serve frozen yogurt brand, is spotlighting two seasonal flavors, the new Thai Tea and featured favorite, Boba Milk Tea, as well as limited time only mochi toppings. The flavors and toppings are now available at participating Yogurtland locations nationwide while supplies last.
The all-new Thai Tea frozen yogurt from Yogurtland is handcrafted with bold black tea flavor with sweet cream notes. The Boba Milk Tea flavor is a creamy twist on a classic favorite with brown sugar notes, enhancing the milk tea experience. Guests can also enjoy new rainbow mochi available now, and brown sugar mini mochi available starting in May. Both toppings are limited time only while supplies last.
"Spring is in full bloom at Yogurtland and we're going back to our roots with our tea drink-inspired flavors. It's a fun fact that the very first Yogurtland was originally part of a boba milk tea concept," said Brittany Knollmiller, head of marketing at Yogurtland. "Our Thai Tea and Boba Milk Tea frozen yogurts are must-try flavors this season and are the perfect additions to family gatherings, after-school hangouts with friends, or any springtime activity."
Yogurtland is also offering an exclusive online treat, the Mochi Mochi Tea Cup. This fun and flavorful cup is made with their creamy Boba Milk Tea frozen yogurt and topped with both limited time rainbow mochi and brown sugar mini mochi. It will be available to order exclusively online at yogurt-land.com or through the Yogurtland app beginning May 1.
Guests can also benefit from special promotions such as earning 3x points on any online order placed from May 8 to May 14 in honor of National Nurses Week, Teacher Appreciation Week and Mother's Day. Additionally, from May 8 to May 13, customers can receive a $5 bonus card with the purchase of any eGift card of $25 or more (with a limit of four bonus cards per order). The bonus cards will be valid for in-store use only from May 14 through June 11.
For more information or to find a location near you for takeout, delivery, or catering, please visit yogurt-land.com.
ABOUT YOGURTLAND
Yogurtland is the industry-leading frozen yogurt chain that delivers over 200 handcrafted flavors and provides fans an anytime treat for the whole family. Made with real ingredients, Yogurtland creates froyo moments with expansive menu items and offerings, at-home experiences, and innovations throughout the brand. Yogurtland creates their one-of-a-kind roster of flavors through its Flavorologists, who are experts in flavor and masters of their craft. With scratch-made, handcrafted flavors from across the globe, fans can experience a truly customized frozen dessert. Yogurtland's premium frozen yogurt and delicious toppings are available through delivery, pickup, or catering, making it fun and easy to enjoy dessert anytime and anywhere. Presently, Yogurtland has more than 220 locations across the U.S. and internationally. For more information, visit www.yogurt-land.com.